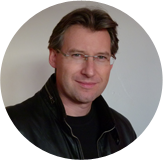 Guillaume Milert - President Boost Expert
He holds a Master in French Language and Literature at Sorbonne (Paris IV) and a Post-Graduate Diploma in Political Communication at Panthéon-Sorbonne (Paris I).
After his work experience as Production Manager at TELE IMAGES and FRANCE TELEVISION and Head of Communications in SIRPA and Aerospatiale, Guillaume Milert joined Teleperformance group in 1996. He starts there as Director of Telemarketing Department mainly for French branch and in 2002 he becomes Director of Management Controlling and Human Resources. He was appointed in 2004 Deputy Managing Director INFOMOBILE, the former paging subsidiary redeemed at Bouygues (KOBBY brand).
He joined in 2008 WEBHELP as Deputy General Manager and contributes to the growth of this service provider on the French market until 2011. He then launched, under the French brand NETIZENCALL, a new Eastern Europe CRM actor, before collaborating with UPTEAM Company specialized in operational and viral marketing.
With his experience in both the corporate world and the media, Guillaume Milert creates in 2013 BOOST EXPERT. He is also a regular speaker at INSEEC for training on the web and social networks. He goes along with and relies on its network of press agents, literary ghost-writers, community managers and web designers depending on chosen Internet strategies.